Mandalay Beach
The tracks around Mandalay Beach are maintained by CALM and volunteers. Hill climbs are enhanced using old railway sleepers and rubber matting. All the tracks are black sugar sand so low tyre pressures are important.

Contact:

DPaW Pemberton Phone: (0)8 9776 1207 DPaW Parks and Wildlife @ Banksia Camp or Crystal Springs

Nearest service:

Walpole

Track Length:

Banksia Hut 17.5km
Long Point 31km

Windy Harbour

Distance from Perth:

Walpole 414km
Walpole to Crystal Springs 13km
StreetSmart®Travellers Atlas 9th Edition

Map: 2 Grid Ref: A 2

Roads and Tracks Western Australia 2005

Map:1 A Grid Ref: A 1
Mandalay Beach rd runs off the South West Hwy at a small hamlet called Crystal Springs. The beach is 8km from the Hwy and there is an excellent gravel rd all the way. There is no vehicle access, to Mandalay beach itself although the timber walking ramp and platform make the journey very easy if your looking for a swim or fish.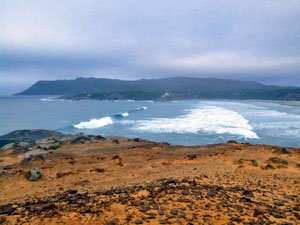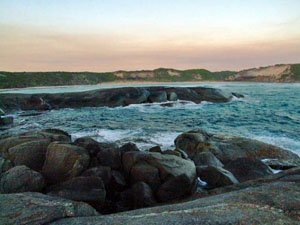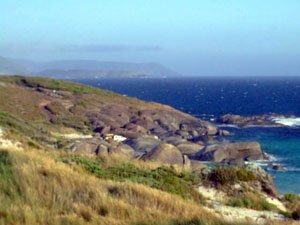 Along the Mandalay Beach rd you will also see the turnoff to Banksia Hut. A fee of $9 applies to private vehicles to enter the park. The first junction will take you to Red Rock. The track ends at a parking area and entails, walking a short track to the coast. Following the main track from MB26 will bring you to MB28 where you veer left for the Banksia Hut camping area.
Banksia Hut has been rebuilt and at the time was quite close to being finished. A camping area with toilets is also a recent addition. The coastline lends itself to rock fishing more than beach fishing. It is a dangerous place to fish when a swell is running. If you are lucky enough to time your trip so that you can access the beach at Broke Inlet mouth (fishermans track) this may be the go. Contact DEC at the Wapole office on 98401027 to check access.
The track out to Bottleneck Bay and Cliffy Head can be a bit rough in spots for smaller 4wds. The Bottleneck Bay walking track is similar to the Hush Hush beach track
The other track system is on the eastern side of Mandalay rd & starts near the Crystal Springs camping area. Parts of the Bibbulmum Track interlace with the vehicle track system so be aware of hikers around here. The track can be quite soft, though railway sleepers or rubber matting are in place to enable easy accessability.
Long Point, Little Long Point, Hush Hush Bay & Lost Beach offer magnificent views of the coastline & beaches. There is no actual vehicle access to these places. There is no camping at any of the bays or open fires in any area of the park except the Crystal Springs camping area.
Long Point is a 350m walk to the beach.Little Long Point is 250m. Hush Hush beach requires at least a 250m walk down a very steep track to reach the rocks at the bottom.Lost Beach has a shaded parking area and entails a 150m walk to the cliffs. There is no track to Lost Beach from the top of the cliff that we could find.