Kennedy Ranges & Mt Augustus
Mt Augustus has a good dirt road from Gascoyne Junction or Minilya Roadhouse. The eastern side of the Kennedy Ranges is also a good dirt road from Gascoyne Junction. The western side of the Ranges is only accessible by 4WD and entails crossing the Gascoyne River. The bush tracks vary from red dirt to stony, sharp terrain.

Contact:

DPAW Geraldton 08 9964 0901 Kennedy Range Mt Augustas @ Temple Gorge

Nearest service:

Gascoyne Junction

Road Reports

Upper Gascoyne

Distance from Perth:

Gascoyne Junction1060 km
Gascoyne Junction to Kennedy Ranges (east) 70 km
Gascoyne Junction to Mt Augustus 354 km
Gascoyne Junction to Gascoyne Riverbank KR07 (west) 38 km

Track Length :

Kennedy Range (west) 46 km
StreetSmart ®

Travellers Atlas 9th Edition Map: Grid Ref:

Roads and Tracks Western Australia 2005

Map: Grid Ref:
Mt Augustus is an easy drive along a dirt road that takes you through Cobra Station and Bangemall. The Original Cobra homestead (KR20) was built in 1906. The stone building and shearing shed are a short distance from the road and worth a look.

Euranna Hotel was built in 1896 and was renamed Bangemall Inn after the nearby Bangemall goldfields. The miners called the gold field Bangemall as they were sure that this goldfield would do just that. In the mid 1900,s the Inn eventually became the Cobra Station homestead. It is currently occupied by a caretaker and public access is restricted. Contact DPAW Geraldton office if you wish to enquire. There is no fuel at Cobra Station, though a phone box is just in front of the homestead.
Mt Augustas lays claim to the be the largest monocline in the world. The area around Mt Augustas is day use only and camping is not permited. Mount Augustus Tourist Park provides all the services needed and is a short distance from the rock.

Emu Hill lookout provides a good vantage point for photography. Cattle Pool is also nearby and is a permanent water source. Mt Augustas itself is a mecca for bush walking, whether it be a short walk to Edney Spring or some of the more challenging walks that offer spectacular views of the surrounding country.
There are a number of rivers and creeks along the road, heavy rain will close the road.
The western side of the Kennedy Ranges entails travelling west, 37.5 km from Gascoyne Junction Roadhouse to KR04 where you turn to the right. A dirt rd will take you past the old Winnemia shearing shed. A short distance after that, the river bed will appear.

The river bed sand is quite coarse and does not compact so well when wet. It will turn into QUICK SAND. Sometimes the river will be impassable. Check with the Gascoyne Shire or DPAW. The photo below shows a typical crossing with 500mm of water. If in doubt use the northern access after Carnarvon.
After crossing the Gascoyne River, the terrain will change to a stony track. The stone itself is Mooka Stone. Mooka Creek(KR08)is a short distance along a side track. There is also a cleared area along the creek bank at KR09.

There are a lot of creek beds to cross, a high ground clearance 4wd may best suited in some of these. At the time of travel (Aug15) the track had been cleaned up of big wash outs.
Venny Peak becomes clearer as you approach Yenny's Spring. This area is extremly well shaded and provides an excellent place to stop for a while. There is easy walking access along the creek.

Chaffcutters Spring is the next spot and lot larger than Yenny's. The sidetrack announces itself at a pair of old strainer posts and it is then a short drive away. The area east of the spring has good walking access further into the Ranges.
After Chaffcutters you will pass Bullwalya Spring. Pharoh Well is aptly named. If your lucky Lake Julia will have some water in it. Warning all water from springs, bores and creeks is not suitable for drinking. Binthalya Homestead has been demolished. At the northern information bay (before Binthalya) it approx 104km to Gascoyne Junction or 170km to Carnarvon. There are no facilities at all and you will have to be self sufficient and carry every thing in and out.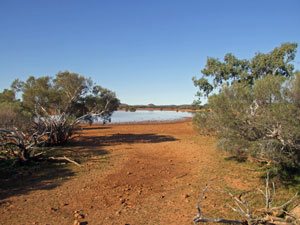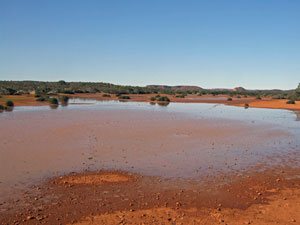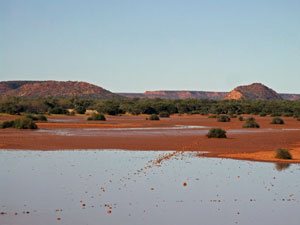 Right click mouse and use scroll wheel to zoom the map below. You can also access the free map at maps.bushtrax.com where you view and download the map in the .mbtiles format. We have provided information about some apps that will handle this map format. Using your mobile to view in landscape mode is best.